Fly a helicopter around Marina Bay; experience spirit distillery and drink tasting with top cocktail bar owners; get a private locker in the most exclusive bars in Singapore. The Revelry is an online service that lets your purchase incredible experiences like these, and more, all booked from an app.
Our role
We've armed the Revelry with a complete and bespoke online e-commerce solution that is the backbone of their remarkable service. From the initial spec-writing phase, to the grand launch, we've been working closely with the guys to build not only their customer-facing e-commerce front-end, but also the admin back-end and a partner portal for their partners to manage their purchases through.
Alex Small, Managing Director, The Revelry Singapore
I've worked with a number of dev shops, and KatanaCode has topped them all. One thing they do uniquely well is thinking about your product holistically: you give them a spec, and not only will they execute on it, but they'll also act as a thought partners, and advise when aspects of your spec can be improved.

The Revelry web application
At the heart of the Revelry is their bespoke web application that drives the whole system. Built using the latest version of Ruby on Rails, this application provides the customer-facing E-commerce and marketing webpages, the partner portal where their business partners manage their accounts, and the administrator portal, where they can manage the websites's content.
Because the site is full of large, rich images, we've employed the latest techniques for website optimisation and content delivery, for a slick and fast user-experience - even on a 3G connection.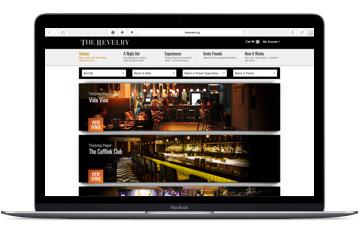 A secure E-Commerce platform
Fully responsive for mobile and tablet devices
Editable CMS for quick-easy content updates
Sends SMS messages direct to customers
Sends notifications to customers
Uses the Cloud for fast content delivery
Customers can log in using Facebook.
The Revelry Mobile App
The Revelry was designed for customers who were out on the go - and that meant creating a slick, and intuitive mobile-first experience.
The mobile app was designed to look and feel like a native mobile app, while offering all of the same features of the full desktop website.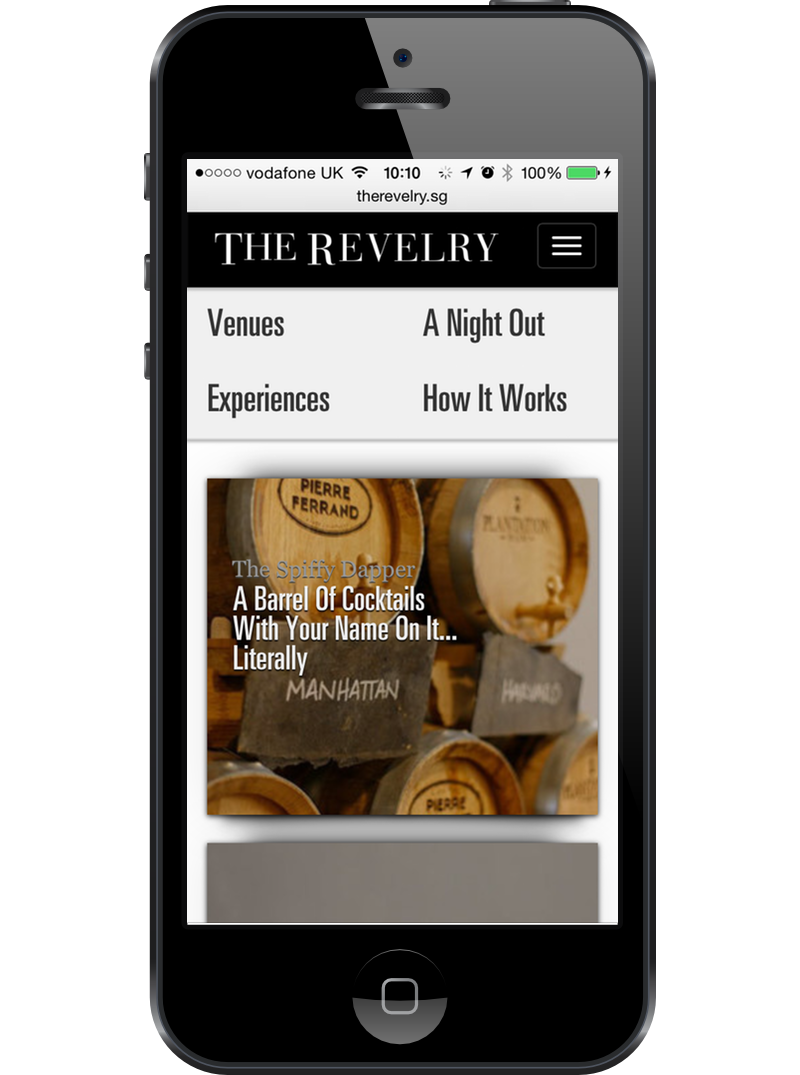 Sends SMS direct to customer
Connects with customer's address book
Implements Push Notifications
Uses GPS and mapping technology
Jonas Chelbat, Managing Director, The Revelry Malaysia
We were happy with KatanaCode from start to end. They acted as a fantastic sparring partner both on the technical parts of the development process, but also challenged us on many of the business areas, adding their "tech" perspective on our processes, resulting in our product being more long term scalable than originally intended.